View Cart

Kulina Folk Art's soap making workshop we held at the Oxford Free Public Library was fantastic! Gariné explains everything clearly during the program and made it so much fun for the attendees. She was wonderful to work with and made it easy setting up a time to hold the program. All of the patrons that attended told me how much they loved the workshop and told me they had a blast making the soaps. We will definitely have Gariné back at OXPL!
~ Brittany McDougal, Director at Oxford Free Public Library
Many thanks for sharing your soap-making skills with us in Ashburnham! I know that the young people enjoyed the creative process and that they learned more about how soap is being made, along the way. And I was lucky enough to gain a rubber duck sample, too. Thanks again, and best wishes on your future endeavors.
~ Corinne Smith, Library Assistant, Programs, Stevens Memorial Library, Ashburnham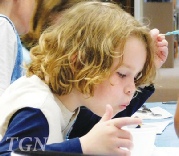 The Gardner News - Friday, October 6, 2017
News staff photos by Doneen Durling
Good, clean fun - Finne Patty blows on the soap to help cool it down recently at Stevens Memorial Library in Ashburnham. He added peppermint to his soap and was surprised at how strong it smelled.